New application: DXF Overlay
With the launch of Firmware 4.4, we are happy to announce the launch of a new application for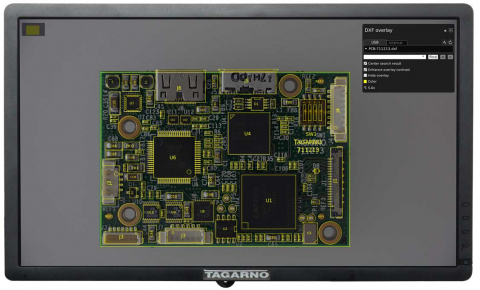 TAGARNO digital microscopes called DXF Overlay. The new application gives the user the opportunity to use the DXF file with the drawing of the component as an overlay on top of the live image of the sample. One of the greatest advantage of the app is the search feature that makes it easy to find the exact component in the sample you want to inspect.
The application was developed with the purpose of simplifying the task of inspecting circuit boards as their components have reduced in size considerably. Even though it was developed for electronics industry the application can be used in other industries as well.
DXF Overlay
Inspect a sample with a DXF overlay on top
For: TAGARNO FHD PRESTIGE | TAGARNO FHD TREND | TAGARNO FHD UNO
Name: DXF Overlay | Art. no.: 306008
DXF Overlay allows you to inspect a sample using a DXF file as an overlay. By simply adding the file and using it as an overlay on top of the sample, you can easily see the sample and the drawing file live on the screen. One of the greatest feature of the app is the search bar that can be used to search for specific parts in the sample. This enables the user to easily find the component that could be faulty or needs a more thorough inspection.
The app was developed for inspecting PCBs due to the miniaturization of components in the industry, but can have many other uses in different industries. In agriculture, for example the DXF app can be used to validate sizes of seeds.
What is a DXF?
DXF is an abbreviation of Drawing eXchange Format and is a file extension for a graphic image format. This format is typically used with AutoCAD (Computer Aided Design) software.
How to save an DXF file?
For best user experience with the DXF Overlay app, we recommend exporting DXF files directly from CAD data when possible. It is also recommended to only export the template you want to use as an overlay and to exclude drawing headers, production specifications, etc from the export. It is not recommended to export DXF files from Gerber/CAM data as these are likely to be all vector based. This will increase the import and rendering time and prevent the app from performing a text search. In order for the DXF Overlay to follow the magnification levels of the microscope, the DXF file has to be in scale 1:1.
How does it work?
Watch the video below to see how TAGARNO DXF Overlay app works.
Features:
Import DXF files to the microscope from USB or Internal storage
Search for components with the search bar feature
Enhance contrast between live image and DXF with overlay contrast feature
Choose from 24 different colors for the overlay
Advantages
Standalone microscope - No computer needed
The application is installed directly on the microscope with no need for an external computer connected to the visual inspection microscope. All you need is a mouse, a control box and a monitor connected directly to your microscope and you are good to go!

User friendly interface
Benefit from an easy to use and intuitive menu

Document your work
Save your file in different formats, with out without graphics, on a USB or even directly on your computer via LAN. Sharing images and documentation materials with colleagues and supply chain partners have never been easier

Quarterly updates
Benefit from quarterly updates that gives you access to the newest features and ensures that your microscope it always up to date. It is also easy to purchase new applications that can help your inspection processes without having to change your microscope